Salima Appial-Duffell, a CUA Library and Information Science graduate student, recently wrote about her work at the Hirshorn Museum Library:
When I started library school at Catholic University, working at the Smithsonian (Institution) seemed like a beautiful, but impossible dream. Now, with my Master's in hand, I've started my second career exactly where I hoped. I've been a Library Technician for the Hirshhorn Museum and Sculpture Garden and Smithsonian American Art Museum/National Portrait Gallery Libraries for a month now, and I still can't believe my luck.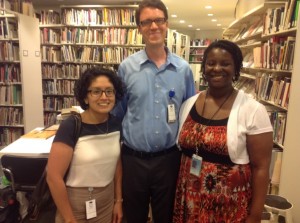 The author (right) with her former colleagues.
I came to the Smithsonian from the Department of Housing and Urban Development (HUD) …
Read more at the Smithsonian Libraries Unbound Blog